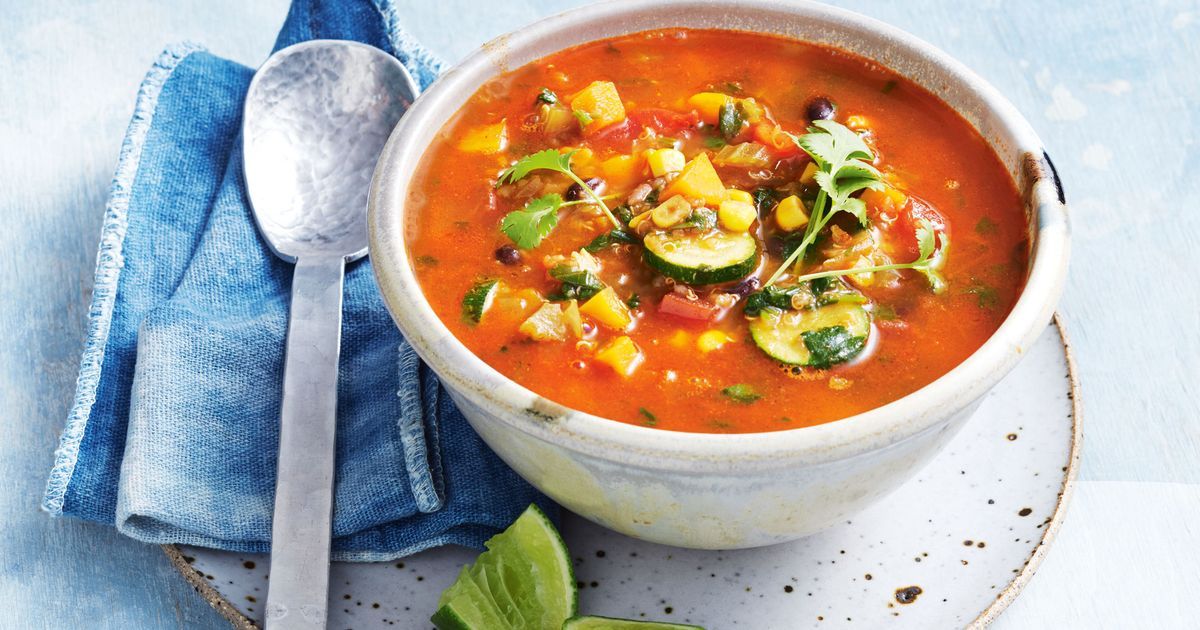 Spicy Chipotle Chicken & Quinoa Soup (by Nadia Lim)
 I love this soup. It's my new go to winter warmer. 
It is perfect for those cold winter evenings. It's nourishing, it's yummy and it's easy and quick to make.
Serves: 6 Kiwis | Preparation time: 20min | Cook time: 30min
Ingredients:
2 tsp olive oil
1 large onion, diced
1 clove garlic, finely chopped
2-3 stalks celery, finely diced
2 carrots, peeled and grated
1 Tbsp chopped thyme (Italian or poultry seasoning, if thyme now available)
2-3 Tbsp tomato paste
2-3 Tbsp chipotle sauce
1½ cups peeled and diced pumpkin or butternut
500g boneless, skinless chicken thighs
½ cup quinoa or any rice
1 litre salt-reduced chicken or vegetable stock
2½ cups water
½ tsp salt
Juice of 1 lime or ½ lemon
To Serve:
⅓ cup unsweetened natural yoghurt or lite sour cream
⅓ cup chopped coriander, basil or parsley
Method:
Heat olive oil in a large stock pot on medium heat.

Cook onion, garlic, celery, carrot and thyme, with a good pinch of salt, for about 10 minutes until soft. If at any time the vegetables are beginning to stick to the bottom of the pot, just add a couple of tablespoons of water, stir, and they should unstick.

Stir in tomato paste and chipotle sauce

Add pumpkin/butternut, chicken thighs, quinoa/rice, stock, water and salt.

Cover and bring to a simmer. Simmer for about 20 minutes or until grains are tender.

Remove chicken pieces to a chopping board and shred meat with two forks. Put it back into hot soup and stir.

Season to taste with lime or lemon juice, and freshly ground black pepper.

Serve with a dollop with yoghurt/sour cream and fresh herbs.
Enjoy!