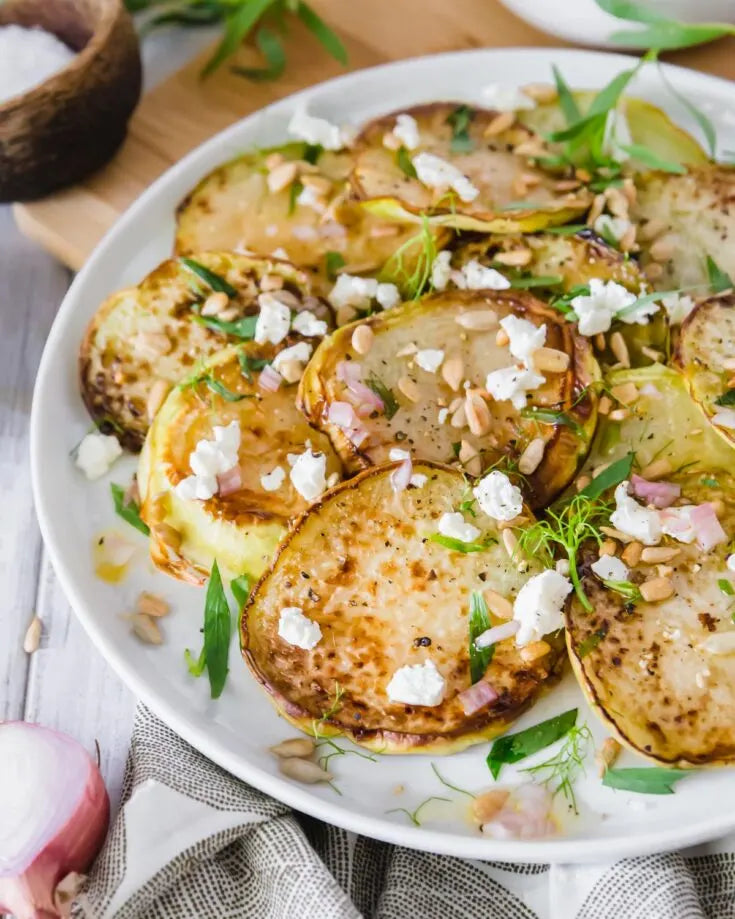 Roasted Kohlrabi with goat cheese & tarragon
4 Servings
Prep time: 10 minutes | Cook time: 20 minutes
INGREDIENTS
2-3 Large kohlrabi, nubs sliced off and cut into rounds
2 tablespoons extra virgin olive oil, divided
1 tablespoon fresh lemon juice
½ tablespoon minced shallots
salt and pepper to taste
30 g goat cheese, crumbled (you can add more if you love cheese)
1-2 sprigs fresh tarragon, leaves removed and roughly chopped
1 tablespoon toasted sunflower seeds (hazelnuts are good too, of course any nuts or seed you like)
INSTRUCTIONS
Preheat oven to 200°C and either lightly grease or line with parchment paper.
Meanwhile, place a large skillet over medium-high heat on the stove top with 1 tablespoon of the olive oil.
Once hot, add the sliced kohlrabi rounds to the skillets (you may have to work in batches to fit them all) and cook until golden brown on the bottom. Flip and repeat on the other side. This will take about 4-5 minutes per side.
Transfer the browned Kohlrabi to the prepared baking sheet and roast in the oven until tender, about 10-12 minutes.
While kohlrabi roast, make the vinaigrette by whisking together the remaining tablespoon of olive oil, lemon juice, minced shallots, salt and pepper in a small bowl.
Place the roasted kohlrabi on a serving dish or platter and pour the vinaigrette over top
Finish with the crumbled goat cheese, fresh tarragon and toasted sunflower seeds (any favourite seeds or nuts) before serving and of course a pinch of love, always test better! 
ENJOY